How to Find an Injury Lawyer:
An 8-Step Guide for Injury Victims
Written by Joseph A. Nagy, Edmonton Injury Lawyer
I am Joseph A. Nagy, and I am an experienced Edmonton injury lawyer serving central and northern Alberta. As a "car accident lawyer", my specialty is helping people who have suffered injuries in all types of motor vehicle accidents.
If your injury situation isn't so urgent that you have to call an injury lawyer immediately, then you are going to do some research. This guide will help you find an injury lawyer that is right for you. 
Based on my years of experience, this guide will help you find:
the best qualified injury lawyer to represent you
an injury lawyer who gets how you feel, understands your questions and concerns, and knows how to help you
an injury lawyer whose practice is exclusively or almost exclusively injury law
an injury lawyer with experience
an injury lawyer who can weigh the specific evidence from your accident and resulting injury
an injury lawyer who knows the case law specific to your case
an injury lawyer who can handle insurance companies and their lawyers and make sure you get fair compensation
an injury lawyer who will fight for you
an injury lawyer who has the team and financial resources to support you until your claim is resolved. Angela Winter
I would gladly pass on Joe's name to anyone who needs a great injury lawyer . My sister found Mr Nagy's law firm after i was getting the run around from the other people's insurance company. I had tried another injury lawyer who i had let go a few months before i met Joe. Finally i now had found an injury lawyer who wanted to help me. He listened and understood what i had gone thru since my accident. Joe and his assistant Nicole were very easy to talk to. And both were very professional. They did all the right things to get things done. In less than a year my case was settled. I want to say a big thank you to Mr Nagy and his hard working team . Nikita Kendall
Joe and his team were absolutely amazing throughout the entire process. I truly feel like I could not have chosen a better lawyer to represent me. I'm extremely pleased with the outcome of my case. A huge thanks to Joe and his team for all their hard work and getting me what I deserved. Arnold Rivera
Mr. Nagy helped me with my claim last year and managed to get me the best possible
settlement
(I was fighting against a very large and well-funded company with a dedicated legal department). Mr. Nagy handled my case with skill, determination and compassion. I would not be in my current state had it not been for his very prompt and professional response and actions on my behalf. I highly recommended (and I still do!) him to my friends and colleagues who are or may be in a similar situation that I was in a year ago. I have nothing but high praise and respect for Mr. Nagy for taking on cases to protect and give the 'little guys' a fighting chance against the large and well-heeled entities of this world.
1. Use your personal network to find an injury lawyer
Your network is made up of the people you know and the people they know.
Your personal network includes your relatives, friends, and work colleagues. Ask the people you trust the most in your personal network if they have used injury lawyers. Can they help you find an injury lawyer? Do they recommend the injury lawyer they used?
Then ask if they know people who have used injury lawyers and what their experience was like.
Your network may give you a couple of recommendations to begin your research. Searching online is an easy next step. Be sure to check out the websites of the injury lawyers recommended by your network. But it's also a good idea to search for other injury lawyers online.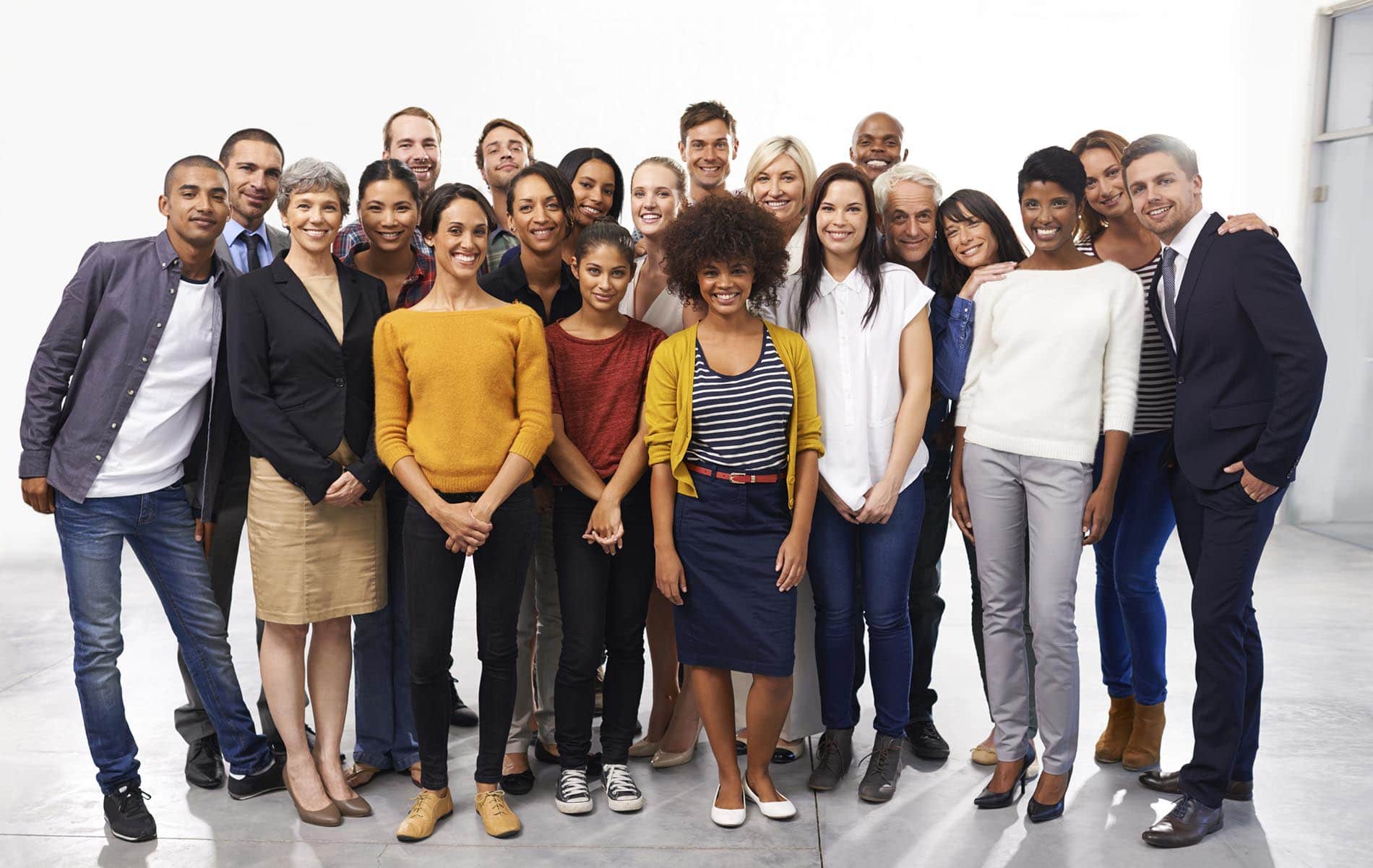 2. Search online to find an injury lawyer
Try some standard web searches.
Start with a general search. Enter a term like "injury lawyer [your location]". Smaller communities don't necessarily have injury lawyers, so substitute in the name of a large city near you, such as "injury lawyer Edmonton" . Keep the page with the results open and start a new search on another browser page.
Now, search for the injury you experienced. Your search term might now be "spinal cord injury lawyer Edmonton". Again, keep the page with the search results open.
Next, search for the type of accident you experienced. Your search term might now be "head on collision lawyer Edmonton".
Try a couple of variations of your search terms to make sure you have a good range of results. For instance, you may see different lawyer websites listed if you search for "personal injury lawyer edmonton" instead of "injury lawyer edmonton" or for "spinal injury lawyer edmonton" instead of "spinal cord injury lawyer edmonton".
Which lawyers show up consistently in each of your searches? Create a list of those injury lawyers as ones you want to know more about. Below, I explain how to understand your search results.
3. Know how to assess your online search results
I will limit my comments here to a Google search, since it is by far the most popular search engine in Alberta. The results of your search, of course, depend the search terms you use when you are trying to find an injury lawyer. The description below assumes you include a term like "injury lawyer" in your search.
At the top of the search results page, you will see ads, mainly from the major injury law firms.
Next, you will see a map with locations of various injury law firms.
Under the map, you will find contact information and links to the injury lawyer websites. You may also see a number of stars, which represent the review ranking for the lawyer on its Google business page. I deal with online reviews below.
Below the Google map and listing of law firms, you will see a list of injury lawyers. The list is the actual results of your search. They are listed based on a Google algorithm and your search term.
As a general rule, plan to look more carefully at the websites of the first 5-10 lawyers listed in the search results for each of your search terms. They will often be the same injury lawyers.
Check out the websites of the injury lawyers that appeal to you.
As you browse through the websites, create a shortlist of the 2-3 injury lawyers you think are best suited to your case. If you prefer, you may want to complete a more detailed review of the sites before you create your shortlist.
4. Use online reviews and testimonials to find an injury lawyer
On an injury lawyer's website, you are most likely to see reviews the injury lawyer wants to show you. Nonetheless they will probably give you a good sense of what the lawyer is like to work with. Reviews, like those on Google business pages, are independent. They can provide you with real insight. Just remember that they may be fair, or not. Online reviews express personal opinions.
Here are some possible sources for online reviews:
Start with Google business reviews. Begin by searching for the lawyer's name or just go to Google maps and search for the lawyer's name. Here is what you will find for my law firm.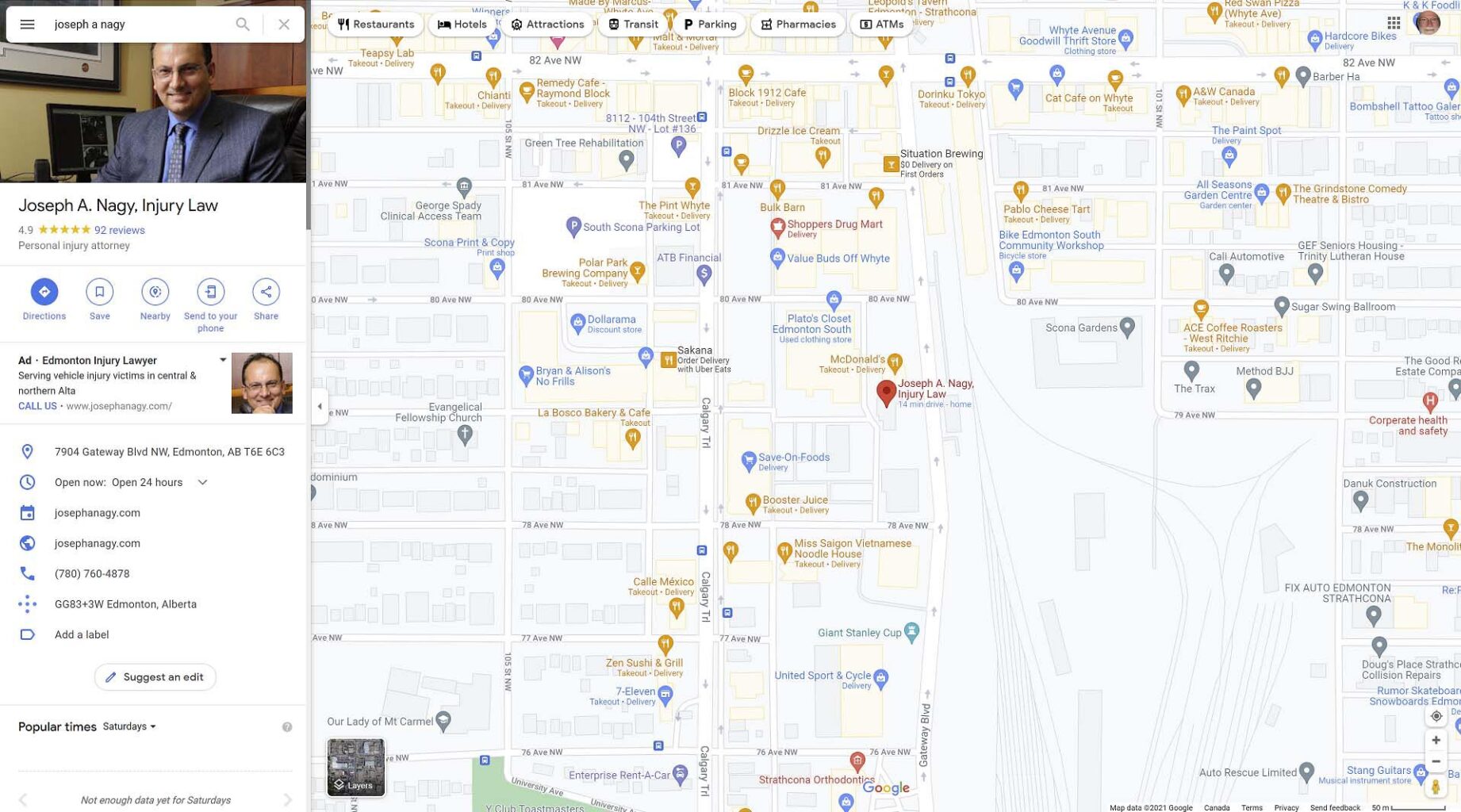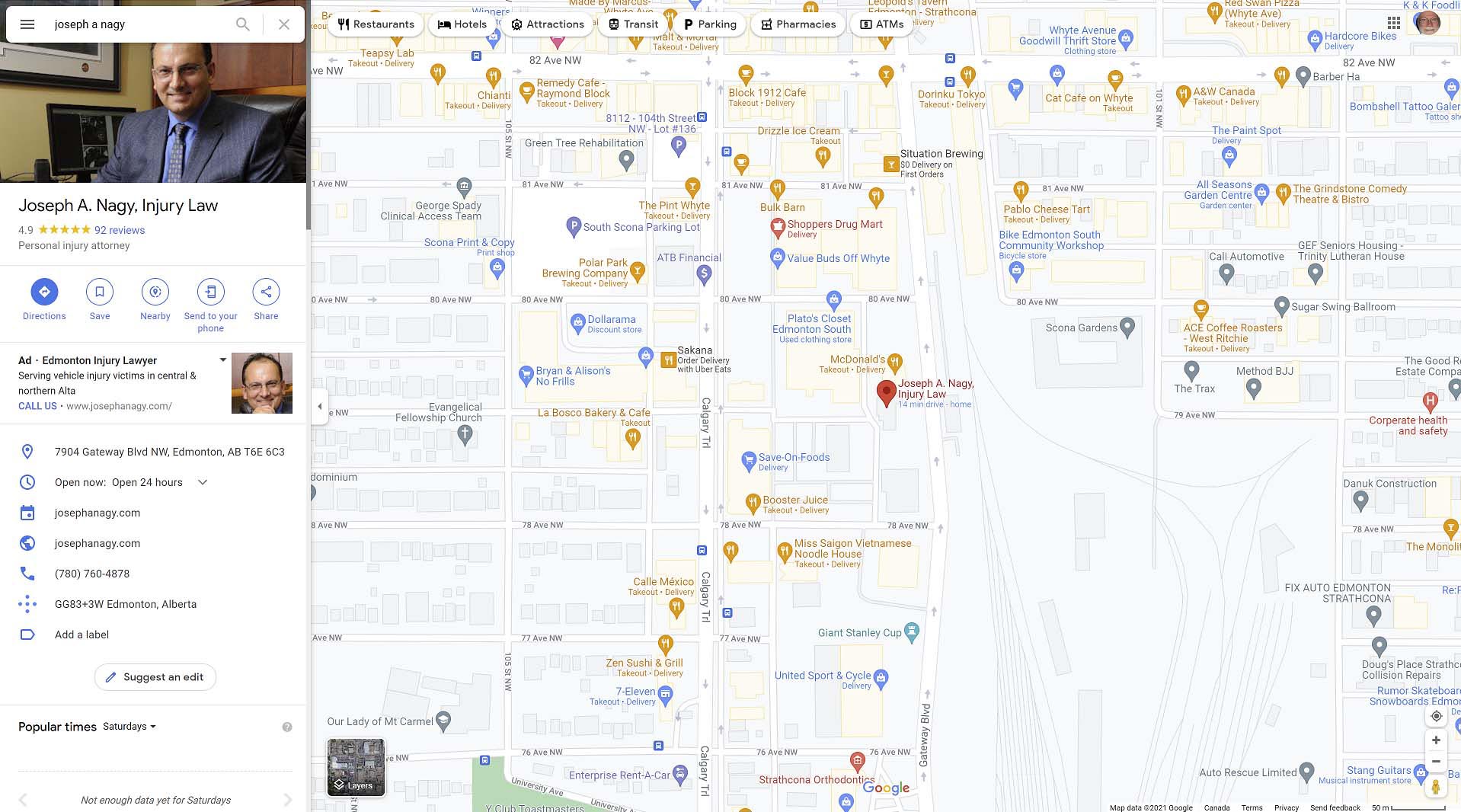 Check out the scrolling list of Google reviews for that injury lawyer. Here is what you will see for my reviews.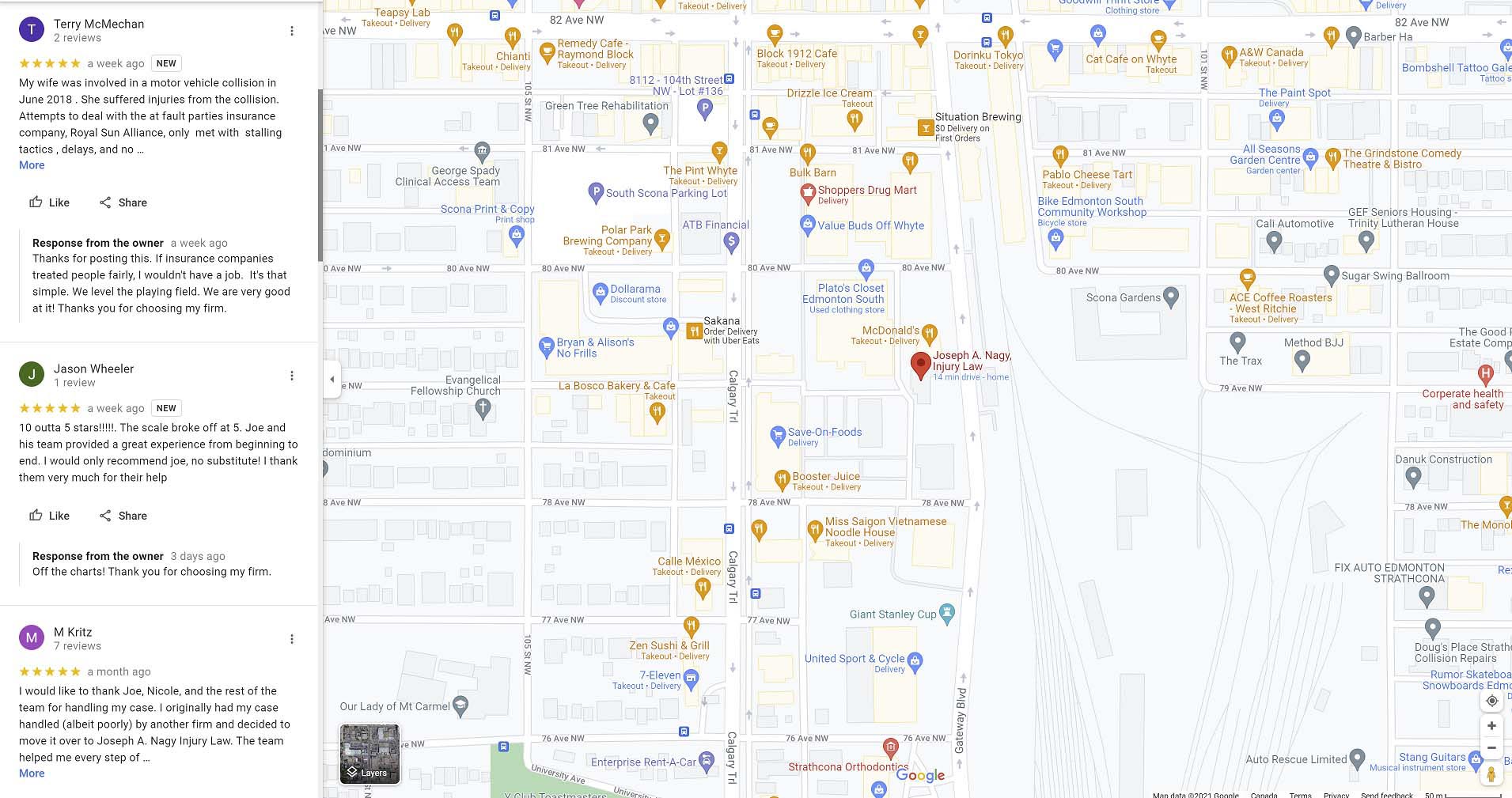 You have to search for each injury lawyer on your shortlist to find the reviews, but it is worth looking. 
Consider whether the positive and negative reviews seem justified. 
Does the lawyer respond to the reviews. That may help you evaluate how the lawyer treats his or her clients.
You can look for other review sites. Three Best Rated, for instance, has a listing 

for personal injury lawyers in Edmonton. 

Some social networks also offer reviews.
5. Know what to look for on an injury lawyer's website
For each shortlisted injury lawyer, look for the following information.
To keep track of the information, feel free to download and use this table: Edmonton Injury Lawyer Website Checklist. The table includes my information and room for 2 other lawyers.
Name of practice
Phone number
Location
Area served
Number of years in practice
Will you work directly with the injury lawyer or will different lawyers in the firm work with you depending on the stage of your case?
Number of cases handled
Experience with different types of injuries
Experience with different types of accidents
Does the injury lawyer represent insurance companies and defendants who caused the accidents or only injury victims?
How experienced is the injury lawyer in dealing with insurance companies?
Will the injury lawyer fight the insurance company to make sure you receive fair compensation?
If needed for your case, does the injury lawyer have an experienced team of injury law experts?
Will the injury lawyer pay the costs of these experts until you receive your settlement or judgement at trial?
Does the injury lawyer charge a flat contingency fee or graduated contingency fee?
Do clients offer testimonials for the injury lawyer and what do they tell you?
To which law societies does the injury lawyer belong?
How do you set up a free consultation meeting?
How long will your free consultation meeting last?
Does the injury lawyer provide resources to help you prepare for your free injury lawyer consultation?
If you are considering a lawyer recommended by your network, remember to see if the reviews and testimonials match what your network told you.
6. Check the law society records for the injury lawyer you intend to hire
In Alberta, contact the Law Society of Alberta to see if a personal injury lawyer is in good standing. A search for the lawyer's name will automatically display any  disciplinary history since 1 January 2015.
7. Use free consultation meetings to find an injury lawyer
Most qualified injury lawyers offer free consultations. When you are ready, start with the first injury lawyer on your shortlist and call to set up a free consultation. Then call your other shortlisted injury lawyers.
There is no charge for a free consultation. To get the most value from your free consultation, check out How to Prepare for Your Injury Lawyer Free Consultation.
.
8. Choose the injury lawyer you think is right for you
By now, you may be pretty sure about the lawyer you think you want to handle your case. You will still want to consider whether the lawyer is a good fit for you personally. Remember, you will be relying on your personal injury lawyer to obtain the maximum fair compensation possible for your injury.
Only you can answer these questions
Does the lawyer sound like he/she wants to help you? Does the injury lawyer explain things in a way that you can understand?
Does the lawyer seem like someone you can talk with?
Behind the ads and sales pitch, do you think the lawyer will be interested in you and want to help you?
Do you think the injury lawyer will want to help you even if your case may not result in a large insurance payment?
Will the injury lawyer fight to make sure you receive the best possible compensation for your injury?
Does the injury lawyer offer any free resources to help you deal with your injury claim?
If you want to discuss your injury case with me, you can call (780) 760-4878 (HURT) or contact me, Joseph A. Nagy. I will do my best to assist you.